My personal site. Rants and musings about politics, law, war and life in general. Catholic by birth, Buddhist by choice, Law School Graduate by hard work. Welcome.

In 1967 Luis Jose Monge is the last person to be executed in the United States for ten years. He is executed in Colorado's Gas Chamber.
In 1972 the US Supreme Court rules in Furman v. Georgia that the death penalty as implemented by the State of Georgia where the jury has complete discretion to decide death or life in prison is unconstitutional. The result being that all death penalty statutes in all states were struck down. This removed 629 inmates from death rows throughout the country.
The US Supreme Court rules in 1976 through two cases, Gregg v. George and Jurek v. Texas that a death sentence is not a per se violation of the 8th Amendment.
In 1977 Gary Gilmore becomes the first person executed in the United States in ten years. Gary Gilmore is executed in Utah by a firing squad.
In 1977 the Supreme Court rules in Coker v. Georgia that a death sentence for the crime of rape where death does not result is disproportionate and violates the Eighth Amendments prohibition against 'cruel and unusual punishments.'
In 1979, May 25, John Spenkelink is the second person executed in twelve years. Florida executes him in the electric chair nicknamed 'Old Sparky' -one of the 44 inmates strapped into that three-legged oaken electric chair.
1982 Texas executes Charles Brooks by lethal injection. This is the first execution by lethal injection.
1984 In North Carolina, Velma Barfield becomes the first woman to be executed in the United States since the reinstatement of the death penalty.
1985 the US Supreme Court rules in Ford v. Wainright that it is unconstitutional to execute the insane.
1987 the Supreme Court rules in Thompson v. Oklahoma that a death sentence may not be imposed on someone for a murder committed when they are 15 years old.
1989 the US Supreme Court rules in Stanford v. Kentucky that the Constitution does not prohibit the execution of 16 year olds who are convicted of murder and are sentenced to death.
1989 the US Supreme Court rules in Penry v. Lynaugh that executing mentally retarded people does not violate the Eighth Amendment.
1993 Westley Dodd becomes the first person in decades to be executed by hanging. He is hanged by the state of Washington.
1997 Timothy McVeigh becomes the 13th inmate on the federal death row.
1998 Karla Faye Tucker is executed by the state of Texas.
1999 sees the completion of the new lethal injection chamber at the federal penitentiary at Terre Haute, Indiana. All of the federal death row prisoners are moved there.
2000 Frank Lee Smith who spent 14 years on death row in Florida and who died there of cancer is posthumously cleared by DNA evidence.
2000, Illinois Governor George Ryan declares a moratorium on implementing the death penalty after a series of events and publicity shows severe problems in the process.
2001 in June of that year Timothy McVeigh becomes the first federal prisoner to be executed since 1963.
2001 Georgia's Supreme Court rules that electrocution is cruel and unusual punishment. Georgia switches over to lethal injection.
2002 April, Ray Krone is released from Arizona prison after DNA proves his innocence. He had been sentenced to death in 1992
2002 May, Maryland Governor Parris Glendening imposes a moratorium on executions.
June 2002 the US Supreme Court in Atkins v. Virginia rules that execution of the mentally retarded is cruel and unusual punishment. This reverses the Penry v. Lynaugh decision of 1989
2002 October 9th, serial killer Aileen Wuornos is executed by the state of Florida.
2003, January, Governor George Ryan commutes all 167 condemned men on Illinois death row.
2003, September 30, Paul Hill, an anti abortion activist and zealot, is executed for shootings outside of the Ladies Center (an abortion clinic) in Pensacola, Florida.
2004, May 25, Twenty-five years after John Spenkelink dies in the electric chair, to mark that anniversary, Florida prepares to execute John Blackwelder. Florida leads the nation in executions with 58 since the reinstatement of the death penalty in 1976.
The Lethal Injection Gurney Pictures



Death Penalty information. Statistics, inmates, victims. The Death Penalty debate.
THE DEATH PENALTY IN FLORIDA
Warning-Disturbing Pictures of an Execution Below

The recent history of the death penalty in Florida has been instructive if you are interested in the the legal and political process. Justice Shaw of the Florida Supreme Court made the issue of 'cruel and unusual' more immediate and compelling by attaching a number of pictures of Allen Lee Davis to his dissent of a case that reviewed whether the Electric Chair was cruel and unusual punishment. These pictures and the interest in them soon overloaded the server as the curious went to view pictures of the death agony of Mr. Davis. As a picture is worth a thousand words (no matter how articulately written) the Supreme Court had taken the issue up a few years ago.
In anticipation of the Supreme Court saying that the electric chair is cruel , Zeb Bush and other Florida law makes raced through the Florida legislature a law making lethal injection a choice for those facing the death penalty in Florida. In Ohio now there is a death row inmate who wants to be put to death by electrocution in hopes that his death would re ignite the death penalty debate.
The pictures that were attached to Justice Shaw's dissent are right below so be warned about scrolling down if you are queasy. I find them difficult to look at myself but they need to be seen. If you have any comments you would like to direct to me please do so at gilbert@gadlaw.com or at the death penalty forum. Thank you.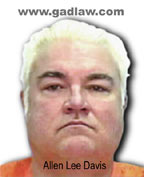 This is the mug shot of Allen Lee Davis.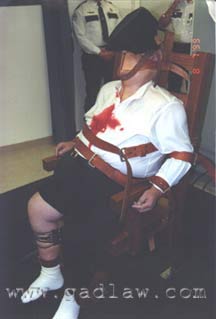 This is Allen Lee Davis after electrocution and while still strapped in the electric chair.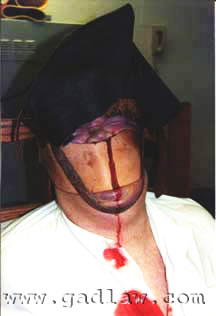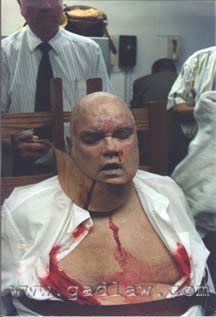 A man from Nova Scotia, Canada sent me a number of electrocution photos which can be seen directly below this text. Again, it's of a graphic nature and all of the photos illustrate the barbaric nature of the death penalty as delivered by electrocution. Of note in the pictures below you will notice a blackened round spot on the top of the bald heads of these men. The black shiny spot you will see is where a round wet sponge was placed on the head, a head that was shaved bald in order to better conduct the electricity that would surge through the man's body. The black shiny spot is cooked and charred flesh. Similarly, the wounds and scarring you see on the heads is the result of the damage done by the high voltage.
This is a mug shot of Ted Bundy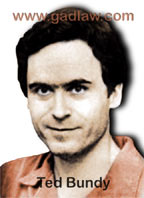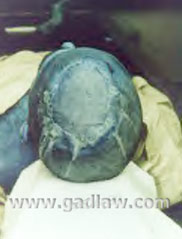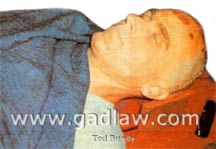 This is Ted Bundy after electrocution.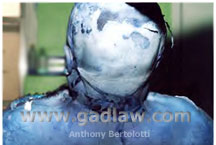 This is Anthony Bertolotti after electrocution.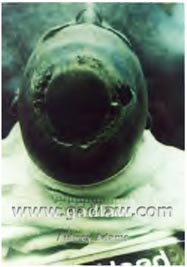 This is Aubrey Adams after electrocution.
This is William Darden after electrocution.

A Scientific View Of Death By
Electric Chair
What follows is a email I received from Dean Cain, who has a B.Sc. Animal Science
and Microbiology (minor Animal Pathology)
M.Sc. Veterinary Microbiology (minor Animal and Human Neurobiology). The comments are unedited and copied in their entirety.
Dear Gil--

My apologies firsthand for not addressing you by your surname, I didn't find it on your website. I hope that my addressing you by your first name will not be misconstrued as a lack of respect towards you; quite the opposite, I have very much respect for your work.

The reason for my writing you is that, in my opinion as a veterinary microbiologist with minors in animal pathology and animal and human neurologies, you have some erroneous information concerning death in the electric chair as it is described at your link. In particular, I would like to address three main points you advance under the "Death By Electrocution Described" column on the upper right-hand side of the link's page.

Firstly, it is stated that "The mouth is covered by a thick leather strap to muffle the screams.." If this statement is implying that a person being electrocuted is prevented from screaming in agony by the mouth strap as the current passes through his/her body, from my studies it is absolutely impossible for any human being to voluntarily move any muscle whatsoever if a charge greater than approximately 200 volts and 1 amp, let alone the initial charge delivered by the electric chairs of states which have used them, which ranges anywhere from 1,800 to 2,650 volts at a minimum of 5 amps, is coursing through the condemned's body. Such current causes immediate unconsciousness (which I will address in more detail in one of the next points) and massive depolarization of every cell in the condemned's body, rendering any bodily motion impossible, except for the involuntary stiffening and/or shaking of the condemned as the current is applied. Moreover, if it is otherly implied that application of the mouth strap to the condemned's face would prevent any talking, moaning, and/or screaming prior to the current being applied, I would like to point out that inmates who are executed by lethal injection are not masked or otherwise facially restrained (allowing them all the freedom to talk, moan, yell, and/or scream before the drugs begin to take effect), hence your statement is misleading in that it suggests the condemned could possibly scream in pain from behind the face mask while electrocution is underway. As I have stated earlier, this is physiologoically impossible if the electrocution is performed properly. The only instance in which the statement in question could hold true is if an improper circuit between the offender's body and the electrical panel delivering the energy is present at the time the current is administered (e.g. head or leg sponges not fully saturated with saline, poor contacts between the circuit wires and ! the head and/or leg electrodes, or any combination thereof).

Secondly, you state, "... [a] hood is placed over the head so that the unpleasant view of a person in his death agony is not seen by the witnesses or executioners." While you are correct in asserting that death in the electric chair can be less than esthetically attractive to say the least, I will once again defer back to my studies and knowledge of neurobiology in stating that while facial contortions by the condemned surely occur at the time the electricity is administered, such contortions should not be mistaken for pain or suffering of the condemned. Sympathetic (voluntary) neuronal activity evoked by human beings and animals alike while conscious is impossible for someone who is being administered incredibly large amounts of current during an electrocution, considering the upper human threshold for instantaneous loss of conscious due to application of electrical current somewhere in the vicinity of a mere 100 volts at 1 amp. The initial jolt ! the condemned receives once the execution is underway is at least 18x this voltage and 6x this amperage; this is probably overkill (no pun intended), but it certainly is many times the required energy to produce such loss of consciousness, reiterating the fact that the hood placed over the condemned's face cannot be misconstrued as an attempt to hide potential pain in the form of facial contortions, because (a) the inmate is already unconscious, and therefore (b) cannot intentionally "scrunch up" their face in pain, since no pain is being felt.

Thirdly and lastly, you state, "Death [by electrocution] is not instantaneous." While this statement is factually correct, it is equally misleading. While I concede that death by electrocution does not occur for probably several minutes, the time it takes the electric chair to snuff an inmate's life is a moot point. What I mean by this is that contrary to lore and/or popular "knowledge" about death by electrocution, the first 1,800 to 2,650 volts at a minimum of 5 amps that surge through the condemned's body do so at about 600 feet per second; if you consider the fact that the fastest of a human's nervous system cells can only do so at about 10 feet per second, the electricity going through the condemned's body is about 60x faster than the body's nervous system. Furthermore, the first electrical jolt to be administered is so high that the offender's entire nervous system, both sympathetic and autonomic (brain stem) pathways are depolarized beyond recovery at about 60! x the speed needed for a human being's nervous system to convey any message whatsoever back to the brain telling the body is in danger; all portions of the offender's nervous system are essentially cooked (and therefore killed), hence consciousness on behalf of the condemned is irreversibly lost long before the body responds unvoluntarily to the current by leaping forward against the restrain straps. Logically, then, it can be concluded that death by electrocution, while indeed not instantaneous, does cause immediate cerebral death, and hence, grants the offender with painless (albeit potentially disfiguring and physically damaging) death. Merely stating that death by electrocution is not instantaneous implies potential suffering from the condemned during the execution process, and as I have stated above, the only fathomable instances where pain may be felt by the condemned is if the procedure was erroneously performed by the execution team (e.g. loose electrical connections, electrode! ode sponges not fully saturated, and/or malfunction of the electrocution apparatus).

Though I can certainly appreciate the gruesome facets of an electrocution conveyed by people who have witnessed it firsthand, neurological science strongly suggests that death by electrocution is indeed painless for the condemned.

Thank you for taking the time to read my message. Feel free to contact me at your best convenience if such is your desire.

Best regards,
Dean Cain
B.Sc. Animal Science and Microbiology (minor Animal Pathology)
M.Sc. Veterinary Microbiology (minor Animal and Human Neurobiology)

Dean Cain --- death5069@yahoo.com
Like everything else, this is a work in progress. Any suggestions or comments feel free to let me know.
I'm playing around with the code of my site and everything isn't connected yet. Working at my own speed, I'm rebuilding, retooling and reworking my site to please me and to be as pleasing as possible. Excuse the mess and happy surfing through the internets. All graphics and pictures are my own. Generally speaking.